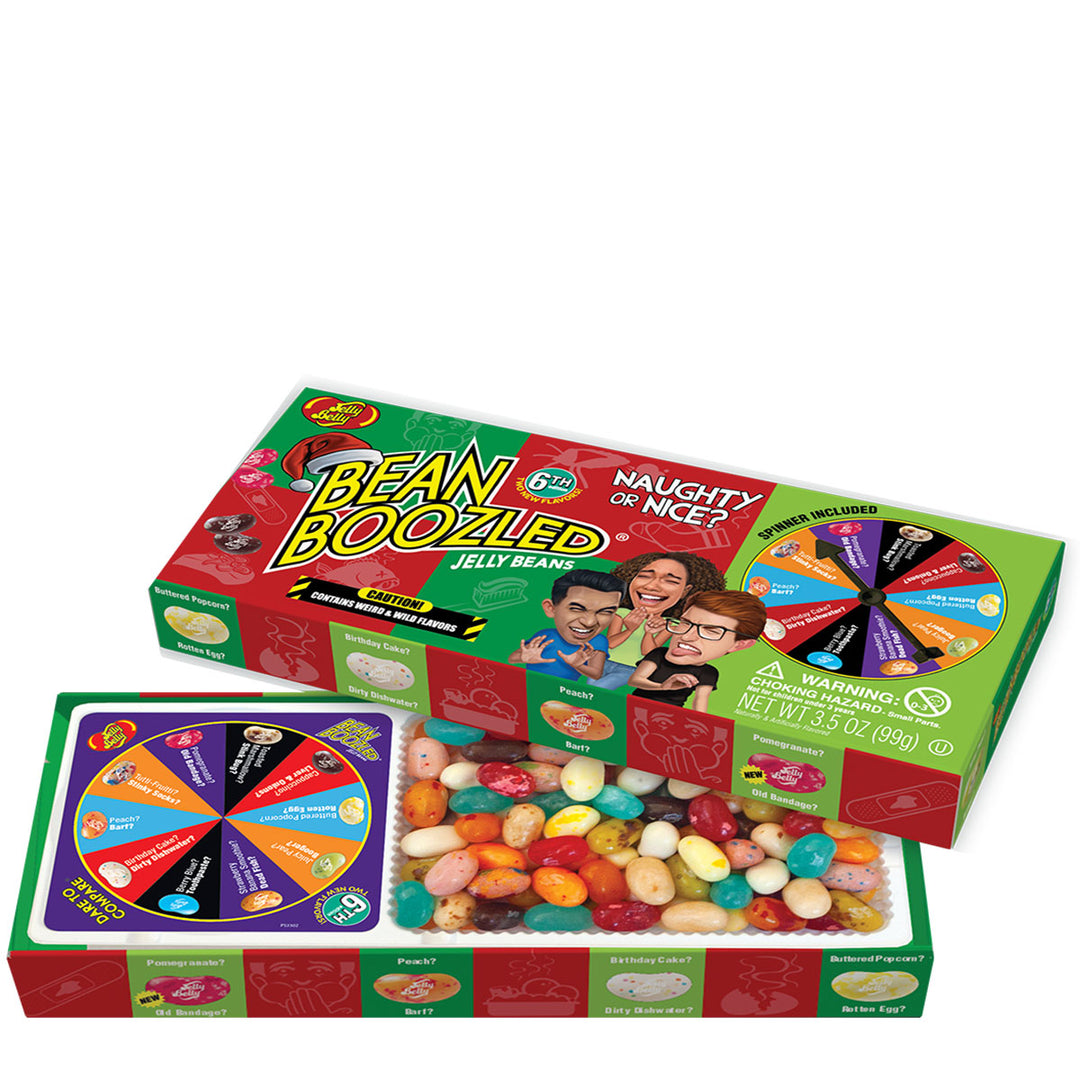 Jelly Belly BeanBoozled Gift Box
---
Flat Rate Shipping 9.99 or Free for Orders over 75.00
In stock, ready to ship

Inventory on the way
Gift Box to find out. We have matched 10 "nice" beans with 10 identical "naughty" beans. Just give the wheel a spin to see what color of bean to eat. Do you think you can tell the difference between the delicious beans and the weird and wild ones? We dare you to try!

Watching your friends and family eat these jelly beans is sure to bring Christmas joy to your holiday celebration. Kids and adults alike will find this game fun and hilarious, making it the perfect option for large families. The great gift box packaging and fun spinner add an extra-special touch to this jelly bean gift set. This BeanBoozled 6th Edition version includes two brand new flavor pairings as well as a variety of favorites from past editions. Try your hand at guessing between liver & onions and cappuccino as well as old bandage and pomegranate!

Flavor pairings in the mix include:


Stink Bug - Toasted Marshmallow
Liver & Onions* - Cappuccino
Rotten Egg - Buttered Popcorn
Toothpaste - Berry Blue
Barf - Peach
Dirty Dishwater - Birthday Cake
Booger - Juicy Pear
Old Bandage* - Pomegranate
Stinky Socks - Tutti-Fruitti
Dead Fish - Strawberry Banana Smoothie
*6th Edition New Flavors 
All Jelly Belly jelly beans are OU Kosher. Gluten free, peanut free, dairy free, fat free and vegetarian friendly.
All orders are shipped via UPS or USPS.
We do not ship orders on Thursday or Friday, if it will travel over the weekend. In this case your order will be shipped out on Monday
Please not that all of our items, especially chocolate items are heat sensitive, and we are not able to guarantee them during the warm shipping months.